SolarEdge has created an innovative solution to keep your home powered through all life's events; the SolarEdge Energy Hub. The Energy Hub consists of the key components of a solar array for your home; solar inverter, battery backup interface, energy storage solar battery, EV charger, and a monitoring app. The Energy Hub allows you to generate, store, and monitor your solar power. Your home stays on regardless of what mother nature throws at you, and irrespective of the power company de-energizing the power lines.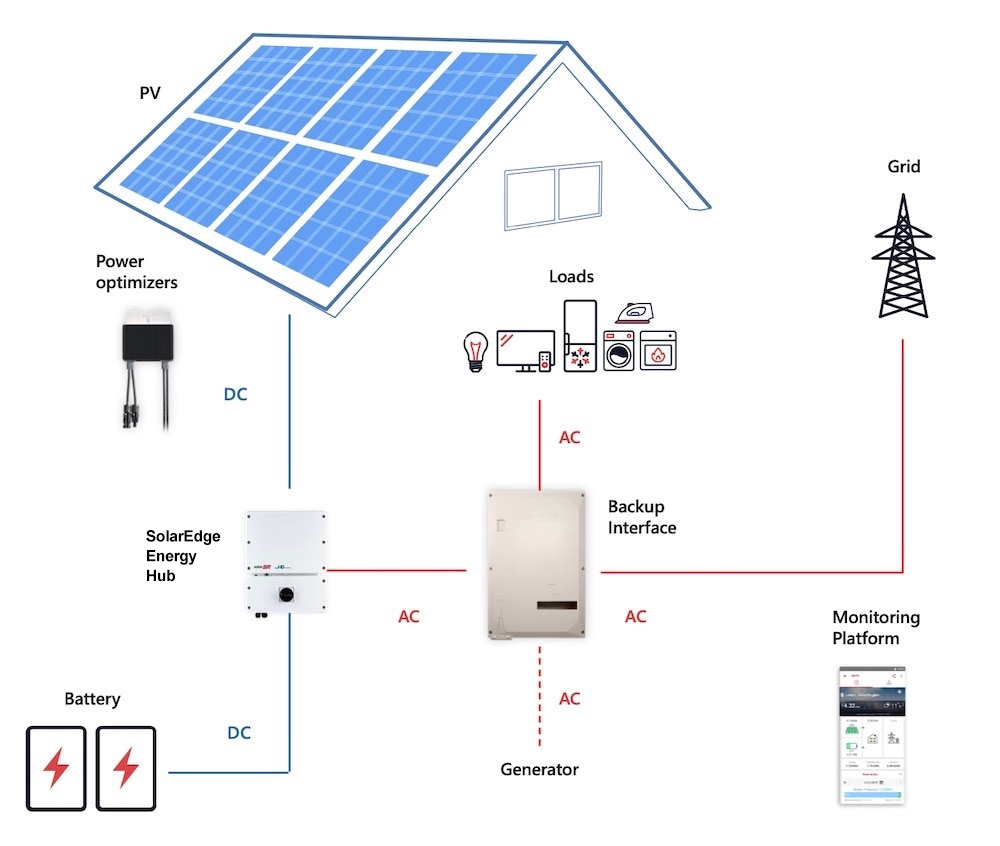 The Energy Hub system has many unique features;
The hybrid inverter connects solar panels, batteries, generator, EV charger, and the backup interface.

Works on-grid or off-grid with energy storage batteries.

Automatic transfer switch for outages.

Scalable as your needs grow for power up to 27.3kW and 60 kWh battery

Powers a whole-house with multiple inverters, or just essential loads with a single inverter.

It can connect to an external backup fuel generator.

Can connect with the optional SolarEdge EV charger.

Integrates monitoring of all energy production, consumption, battery, and EV charging.
The Energy Hub can be configured to combine up to three inverters and up to six batteries. For larger household loads, the Energy Hub can be paired with the SolarEdge 200 Amp Backup Interface for full home backup, or partial with the 40 Amp Backup Interface.
This DC-coupled solution means that solar energy can be saved in the batteries and used on-demand. The Energy Hub is currently compatible with the LG chem RESU10 battery, with up to two batteries per inverter. The high-efficiency system can provide power to your home during peak utility rate times, and keep you powered during power outages.
The SolarEdge Monitoring app is its solar energy meter. It is built into the Energy Hub Inverter to keep you in the know of your solar energy consumption and production. You can maximize your solar energy use and minimize your grid-tied bills through monitoring your power production and consumption. You'll also know when it is time to upgrade your equipment due to power use and equipment performance. Are you finding that you need more solar power storage? With SolarEdge's scalable multi-inverter StorEdge Solution, your solar power storage can grow with you.
The Energy hub will keep your EV 100% powered by sunshine with the optional SolarEdge Smart EV charger. Through the Energy Hub app, you have full visibility into the charge of your EV and home. The Energy Hub is a simple energy solution to keep your home and car sun-powered.
With SolarEdge's Energy Hub, your home can stay powered through all that life brings to your doorstep. Keep your home comfortable and safe for your whole family. Read more on the SolarEdge Energy Hub page.
Is the SolarEdge Energy Hub right for your new solar array? A Solar Consultation and Design with our solar professionals will provide you the best solar options that fit your home. The Solar Consultation and Design is included at no charge when you purchase a 5kW or higher solar kit. Our Solar Design helps you make an informed, unbiased decision to find the best system at the lowest cost. Call us at 888-498-3331 or contact us today to learn more about the SolarEdge Energy Hub and solar kits for your home!
Recent Posts
Know a good solar joke? Send it to us, and we'll add it to our list! Send us your social media profi …

Solar Powered Home with Battery Backup in Mill Valley CA Natural disasters come in various form …

SolarEdge has created an innovative solution to keep your home powered through all life's events; …